What is Indonesian Mahogany Furniture?
Indonesian mahogany furniture are our most requested product after teak furniture, we used mahogany wood mostly on antique reproduction style furniture since their wood grain look more beautiful and classy compare to teak. when you start talking about Indonesian furniture, you would not stop mentioning teak, mahogany or rosewood. The three types of wood is the best wood in Indonesia commonly used as the basic material of making furniture. Teak is the best one, and mahogany said as the medium one. Now it's time we got acquainted with Indonesian mahogany furniture. But before, we find out more about mahogany and why this type of wood is widely used as the basic material of furniture in Indonesia.
What is mahogany?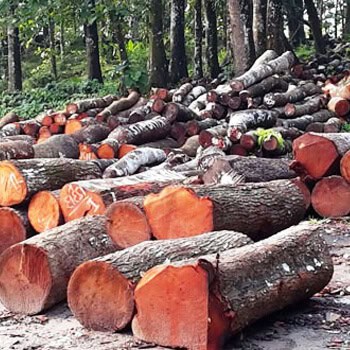 Mahogany wood is one type of wood typical of the tropics. That is, this wood originated and exist only in areas that have a tropical climate for example is Indonesia. In Indonesia, mahogany is very popular especially for many areas of Java, where it is known as high value commercial timber so that many people cultivate and traded in the domestic commodity market.
In Java Island, the supply for mahogany wood does not need to worry because the number is still very much, ranging from the still in the form of trees or already in the form of timber that has been cut or processed. Because this type of wood-producing tree has a period of rapid growth of approximately within the period of 7 to 15 years, mahogany trees have grown large and can be cut and taken wood. This is clearly different from the growth of teak trees and Sonokeling trees where growth takes a long time.
Mahogany wood has characteristics and has special features that only exist in the type of wood itself. These characteristics are also the best reason for many people sought after Indonesian mahogany furniture. These characteristics can distinguish it from other tropical wood species. Because of the fact, there are several types of wood that resemble each other when viewed at a glance, whether in terms of color, texture or wood fibers. But by really understanding the special features that only certain types of wood have we will be able to distinguish them. An example of some kind of wood that has a resemblance when viewed at a glance is like teak wood similar to acacia wood, mahogany wood can also be said to be similar to camphor wood or keruing wood from Kalimantan and other wood species.
Features of Mahogany Wood
The most basic of mahogany features is as follows:
Color: The middle or mahogany part of the porch is mostly pink (arguably pale), but there is also a dark red mahogany very similar to the color of the heart. It is found in mahogany that is really old; maybe the tree grows more than 25 years. The edge of the wood is always white.
Fiber: Mahogany has straight and integrated fiber.
Texture: The mahogany has a fine texture and small pores. Mahogany wood is a type of wood that has good quality, but the level of durability and durability slightly below the quality of teak wood. This wood is less resistant to termites so it is not recommended for placements in direct contact with the soil.
From this mahogany character can help you to determine what type of product to be made and what kind of finishing to apply. In order for products made durable, make sure you first preserve mahogany wood after the cutting process or before the finishing process is done.
Mahogany Wood in the Industrial World
Mahogany wood is known as good wood carpentry. This wood can be easily done as cut and shaped so that mahogany wood is widely used as raw material in the manufacture of various kinds of handicrafts and furniture products such as various carving furniture, cabinets, chairs, tables, children furniture etc. In some cases, mahogany jug is often used as a substitute material of teak wood.
This is done because, in addition to the amount or supply of mahogany wood, the price is much cheaper than the teak wood. This is the main reason for most wood processing industries (furniture industry) because it can overcome the problem of raw material scarcity so that the continuity of the production process is maintained and smooth, and also can reduce the production cost becomes cheaper.
With this feature, it is no wonder that mahogany is widely used as the basic material of furniture. Indonesian mahogany furniture including the most sought after besides furniture made from teak. The reason is because it is durable, but the price is much more affordable. The reddish-brown color makes this wood very suitable for relief (carving) because the finishing is good.
For those of you fans of furniture, you need to know that mahogany wood is very interesting if you use natural color. But how can you display the natural color of mahogany? You can use mahogany colored wood paint starting either for filler part or as wood stain. As for the clear coat, doff color is the best choice to display the beautiful side of mahogany.
To maintain the durability of mahogany-based furniture, the following tips you need to know. Furniture made of mahogany wood does have a beautiful fiber and texture of a very smooth surface, although with a standard finishing quality. Mahogany is included as wood with durable class III and strong class II, III. Mahogany furniture is not suitable for outdoor furniture, so that avoid for buying outdoor furniture made of mahogany. Furniture made of relative young mahogany wood is very susceptible to the disruption of wood pests. To overcome this, then make sure you must be diligent cleaning and occasionally sprayed with wooden pests.
Therefore it is very important to choose a trusted seller of Indonesian mahogany furniture so that you can be sure that mahogany is used mahogany aged so that its durability is longer age.